TECH SKILLS
Over 11+ years of Hands-on Experience in
analysis, design, development, test and deployment
of Web/Cloud applications using Microsoft technologies.
Web App Development
Cloud Migration
Test Automation
| | |
| --- | --- |
| Cloud | Azure, AWS |
| Front-end | Angular 12, ReactJS, Blazer |
| Web Applications | C#, ASP.NET MVC, .NET 3-8 |
| Database | SQL Server, PostgreSQL, MongoDB, Cosmos |
| API | REST, Web Sockets, WCF |
| Client-side | HTML, CSS, JavaScript and jQuery |
| Server-side | Node.JS, Spring Boot |
| Queue | RabbitMQ |
| Messaging | Service Bus, Event hub, Event Grid |
| Cache | Redis |
| Containers | Docker, Kubernetes |
| Source Control | Git, TFS |
| CI/CD pipelines | Azure DevOps, Jenkins |
| ORM | Dapper, Entity Framework, LINQ |
| Unit / Integration Tests | MS Tests, Nunit, xUnit, TestNG |
| Test Automation | Selenium, SpecFlow, BDD |
| Azure | App Service, Functions, VM, Docker, Blob Storage, Azure AD, Key Vault, App Insights, Event Grid, Service Bus, etc. |
Testimonials
LinkedIn recommendations received from peers and Managers of the
reputed organizations.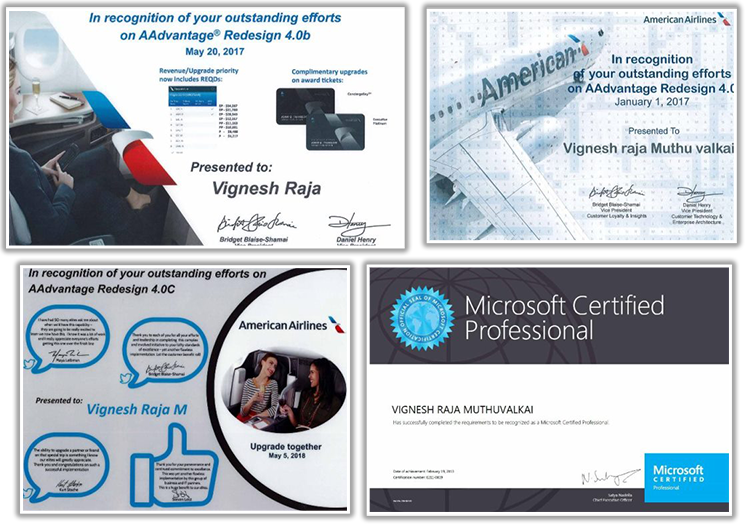 Vignesh Raja is among the best software developers I've ever worked with. I had the pleasure of working with him at American Airlines, both as a manager and as a peer, and have now known him for many years. He is professional and an excellent team player. He loves to work in software, is highly motivated and proactively presents solutions to problems. He is intelligent, reliable, and would be a huge asset to any team or project. Vignesh earns my highest recommendation.
Thank you again for your consideration for the role!